Urban Impressions – A Concert By Urban Nocturnes
New Chamber Music by Glenn Stallcop

Urban Nocturnes is a modular chamber music ensemble made up of six outstanding professional classical musicians, all based in Phoenix, AZ. The group's aim is to present diverse classical music programming and first-rate performances in a manner that appeals to seasoned music-lovers and newcomers alike.
Formed in 2013, Urban Nocturnes was first presented by Classical Revolution Phoenix in a performance at Lost Leaf Bar in the Roosevelt Row Arts District. Since then, the ensemble has appeared multiple times on a number of concert series in Arizona including "Concerts on the Desert" at Saint Barnabas Episcopal Church, "Arts on the Rocks" at Desert Hills Presbyterian, "St. Andrew's Bach Society" in Tucson, AZ, the Downtown Chamber Series, Downstairs at The Orpheum Theater, "Musician Encounters" at Mountain View Presbyterian Church, and at the Musical Instrument Museum. Currently Artists-in-Residence at Trinity Cathedral in downtown Phoenix, Urban Nocturnes performs a series of chamber music concerts every season and provides music for a number of the church's liturgical services and cultural events. In addition, they perform at various other venues around town and collaborate with other exceptional musicians from the area. They have established and maintained relationships with several senior living communities across the valley with concert events at Maravilla Scottsdale, Sagewood, and Friendship Village Tempe. The group's members have also participated in The Phoenix Symphony's outreach programs, playing together at various hospitals, hospice, dementia care, and homeless facilities in the downtown area.
Rooted in the belief that live music performance is essential to a city's cultural landscape, Urban Nocturnes strives to create experiences that inspire a sense of vitality and unity with concert programs that are aesthetically balanced, thought-provoking, and emotionally stirring. Their repertoire encompasses a wide variety of combinations of their instruments and presents standard masterworks of the classical repertoire, lesser known works, and the music of today's living composers.
Through artistic ingenuity and collaboration, Urban Nocturnes seeks to demonstrate music's universal power to engage and enliven the mind and soul.
Christopher McKay and Karen Sinclair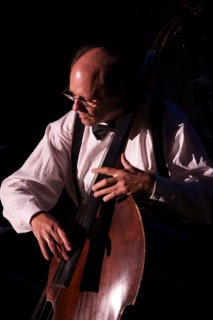 Glenn Stallcop is a composer, pianist and bassist who performed with the Phoenix Symphony for 47 years. He has published more than 100 compositions for orchestra, chamber music, vocal works, solo piano and double bass. He has released over 40 albums of piano improvisation over the last 20 years.
As a professional double bassist with a major symphony orchestra, several of his works feature the double bass. He has written works for double bass and orchestra, for solo bass, bass with accompaniment, two sets of bass duets and several chamber music works. He won the annual International Society of Bassists Composition Competition for solo double bass with his work entitled Vision Quest, for double bass and piano. It was premiered at the ISB conference in Michigan.
The Phoenix Symphony has performed many of his orchestral compositions, including Millennial Opening, Calypso Round, City Music, Sunscape (commissioned by the Arizona Diamond Jubilee Commission), Couplet for a Desert Summer, Concerto for Double Bass, Concertino for Harp & Strings and the Suite from Reggie (originally written for dance). Former Phoenix Symphony Concertmaster, Steven Moeckel, commissioned and recorded the unaccompanied solo The Unreal Dwelling for his album Sei Solo Looking Within during the pandemic.
At the keyboard, Stallcop has been active in classical music and free improvisation. Arizona University Recordings released his CD of solo piano improvisation, Dreamcatcher (AUR/Horizon CD 3007), which received Grammy nominations in two categories. He has released multiple albums of solo piano improvisation. His album recordings are available on Bandcamp, iTunes, Spotify, Amazon, YouTube and other online sources.
Stallcop founded the Arizona Composers Forum (ACF) and served as its president and executive director for six years. During this period, ACF presented 46 concerts in Phoenix, Tucson and Flagstaff, a series of 12 lectures, and a weekly radio program featuring music of Arizona composers.
Stallcop was awarded the Performing Arts Fellowship in Composition by the Arizona Commission on the Arts and was appointed to serve on the Phoenix Arts Commission for three years. He is published by the American Composers Alliance of New York (ACA). Stallcop splits his time between his home in Phoenix and his off-grid home near Ash Fork, AZ.
Glenn Stallcop
Urban Impressions Concert Program
Nuance de Noir(2022) for flute/alto flute, tenor saxophone (or bass clarinet), viola, and double bass (10:26)
Episodes (2023) for violin, cello, and piano
Episode of Excitement and Confrontation (5:21)
Episode of Temptation (5:31)
Episode of Electricity (5:29)
Episode of Disappointment (4:37)
INTERMISSION
Alt Shift (2023) for flute, clarinet, violin, viola, cello, and piano
Tether (8:47)
High Wire (6:50)
Fantasia (10:58)
All music composed by Glenn Stallcop (BMI) and published by American Composers Edition
PROGRAM NOTES AND SCORE VIDEOS
Nuance de Noir Program Notes
for flute/alto flute, tenor saxophone (or bass clarinet), viola, and double bass, eleven minutes
This work was commissioned by the Telluride Chamber Music Association in the Spring of 2022. The unusual instrumentation reminded me of the French Noir films of the 1950's and 60's, especially the film scores of Martial Solal for Jean Luc Godard. It then occurred to me that the atmosphere which triggered the Noir genre (the Cold War and threat of nuclear annihilation) was actually quite similar to today, albeit with a number of different threats. Indeed, the present threats are even more insidious, especially climate. I began to see the present as different shades of "noir," and the idea for the piece was born. Most of the piece is lively and rather nervous and builds to a frantic climax, but the piece ends slowly with a rather sad flute melody. The idea is that anxiety has its own dangers and can lead to life-changing decisions.
Episodes Program Notes
for violin, cello, and piano, four movements, twenty-one minutes
I happen to know or have known a number of people who have been involved in campaigns for causes or elected office, including some people I am very close to. I have found their personal stories to be quite entertaining and moving at times. The kind of interaction they are involved in is often quite dynamic, and, at times, rather emotionally charged.
I had the idea to write a work based on the human and emotional side of campaigning and a concert with Urban Nocturnes in March of 2024 offered me that opportunity. The work is in four five-minute episodes which examine four different experiences.
1. Episode of Excitement and Confrontation. Entering a campaign takes commitment and energy. It is often done with verve and excitement. The piece begins with lots of nervous energy and testing of the waters, but finally gains momentum. Eventually, the campaign runs into some serious conflicting views (represented by the triplets) and leads to a confrontation. The piece ends with some soul searching, but the same
2. Episode of Temptation. Any campaign will eventually run into questionable situations or even proposals. This movement is full of allure and distraction. The movement ends with a quote from Ravel's "Beauty and the Beast" from his Mother Goose Suite, and it's not the Beauty.
3. Episode of Electricity. As a campaign gains momentum, there is a great deal more excitement and a lot more work. Things become a bit of a blur as adrenaline pulls everyone through the long days. This movement starts hesitantly, but picks up and plows ahead until it seems to drop from exhaustion.
4. Episode of Disappointment. Unfortunately, in most, though not all of the cases I am personally familiar with, the campaign has failed. This is likely more a reflection on me than them. There is disappointment, of course, and many cases of "What if . . ." but the firmness of the conviction always remains.
Alt Shift Program Notes
for flute, clarinet, violin, viola, cello, and piano, three movements, twenty-seven minutes
Though living in the present moment is widely professed, we tend to be more interested in life paths that are less difficult and more stimulating. I decided to write a piece which focuses on some of these alternative lifestyles that most of us, including myself, find more attractive. The title is an analogy referring to a keyboard, where ALT and ALT SHIFT are the keys you push to access the characters that are not visible on the keys.
This work was written for a concert on May 9, 2024 with the chamber collective, Urban Nocturnes, and is the first piece in their repertoire that includes all six members.
1. Tether refers to a lifestyle in which one's experience is filtered through strong-held beliefs or firmly held principles. The tether being so strong that it affects everything the person experiences. In the music, the tether is represented by the low gong-like sound (often a perfect fourth) in the piano. The piece both begins and ends with this sound, and it appears regularly throughout.
2. High Wire is about a lifestyle full of adrenaline. It is a dance movement that is roughly based on the Mexican dance rhythm known as a huapango, but I don't think anyone will mistake it for mariachi music. It is very lively, adventurous, and even a little risky.
3. Fantasia delves into the fantasy of all sorts – reading, video, video games, role playing and/or make believe – that has become such a common pastime. It employs non-vibrato chords and swirling effects to try to create a somewhat mysterious and unreal atmosphere. It is a voyage of adventure and excitement, but is all good-natured fun and ends with a joyous coda.