Glenn Stallcop Composer, Performer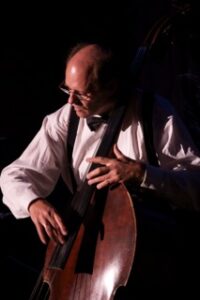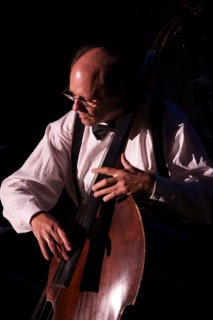 Glenn Stallcop is a composer, pianist and bassist who performed with the Phoenix Symphony for 47 years. He has published more than 100 compositions for orchestra, chamber music, vocal works, solo piano and double bass. He has recorded multiple albums of piano improvisation over the last 20 years.
As a professional double bassist with a major symphony orchestra, several of his works feature the double bass. He has written works for double bass and orchestra, for solo bass, bass with accompaniment, two sets of bass duets and several chamber music works. He won the annual International Society of Bassists Composition Competition for solo double bass with his work entitled Vision Quest, for double bass and piano. It was premiered at the ISB conference in Michigan.
The Phoenix Symphony has performed many of his orchestral compositions, including Millennial Opening, Calypso Round, City Music, Sunscape (commissioned by the Arizona Diamond Jubilee Commission), Couplet for a Desert Summer, Concerto for Double Bass, Concertino for Harp & Strings and the Suite from Reggie (originally written for dance). His music has been performed by symphonies, festivals, chamber musicians and youth orchestras around the country.
At the keyboard, Stallcop has been active in classical music and free improvisation. Arizona University Recordings released his CD of solo piano improvisation, Dreamcatcher (AUR/Horizon CD 3007), which received Grammy nominations in two categories. He has released multiple albums of solo piano improvisation. His album recordings are available on Bandcamp, iTunes, Spotify, Amazon, YouTube and other online sources.
Stallcop founded the Arizona Composers Forum (ACF) and served as its president and executive director for six years. During this period, ACF presented 46 concerts in Phoenix, Tucson and Flagstaff, a series of 12 lectures, and a weekly radio program featuring music of Arizona composers.
Stallcop was awarded the Performing Arts Fellowship in Composition by the Arizona Commission on the Arts and was appointed to serve on the Phoenix Arts Commission for three years. He is published by the American Composers Alliance of New York (ACA). He is a member of Broadcast Music, Inc. (BMI) and the American Federation of Musicians (AFM).
Originally from Seattle, WA, he received a bachelor of music degree from the University of Washington and a masters degree in music from Arizona State University, where he was awarded Outstanding Graduate in Music History, Theory, and Composition. His major teachers include Robert Suderberg, William Bergsma, and Chinary Ung for composition, Ring Warner and Steve Brewster for double bass, and Frits Scavenius for piano. Stallcop splits his time between his home in Phoenix and his off-grid home near Ash Fork, Arizona.
SHORT BIO
Glenn Stallcop is a composer, pianist and was double bassist with the Phoenix Symphony for 47 years. He has published more than 100 compositions for orchestra, chamber ensembles, voice, solo piano and double bass. He has recorded multiple albums of piano improvisation over the last 20 years. His music is published by American Composers Alliance. For more information, see www.stallcop.com