Glenn Stallcop Composer, Performer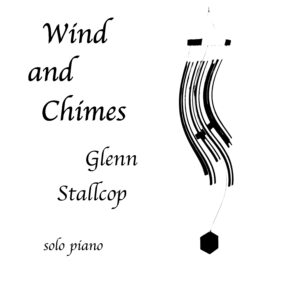 Natural Rhythms
I have had a lifelong fascination with wind chimes. It is partly the random selection of the chimes that rings, and partly the natural rhythmic pulsation of the wind. I like sound sculptures anyway. I love the wind blown pipe sculptures in England and elsewhere that I've seen on video. A friend of mine in college had a design for a funnel shaped xylophone played with ping pong balls that were blown out of the center. (which then returned and were blown again)
I was on the Arts Commission in Phoenix when they were trying to plan some art installations for some property the city had purchased at the end of the airport runway. I wanted them to have an artist build a sound sculpture that would use the sound of the planes flying overhead (very loud) and sculpt it in interesting ways. They told me to submit a proposal. Sigh.
Wind chimes come in all shapes, sizes, and materials. There are wind chimes made of wood, ceramic, glass, metal, even rock. There are also some fascinating visual wind sculptures including the spectacular walking "strand beasts" of Dutch artist Theo Jansen. But I am mostly drawn to the sound sculptures and wind chimes that are within my budget. I particularly like the chimes that have been perfectly tuned with Just Intonation. The effect is remarkably soothing.
Bamboo Woodpeckers. Wood is a beautifully resonant substance and makes a wonderful wind chime, especially when there are several pieces clunking together. Small Metal Butterflies. Metal also makes a nice chime, with different metals producing different results. Basically a tinkling when the chimes are small, but tubular chimes are also metal. I suppose iron butterflies would be the best. Glass, Shell, Squall. Glass and shells are also often used for wind chimes and tend to cause more rustling and tinkling. Of course, the wind can kick up and cause more of a racket than a tinkling.
Wind Bells in Moonlight. A popular wind bell here in Arizona are the bells crafted by the Paulo Soleri Foundation sold to finance his ongoing Arcology project, Arcosanti. The bells, known as Soleri Bells, are large, resonant, stylized metal cowbells and have a deep semi-tuned tong. In moonlight, they have also been known to summon the ghost of Claude Debussy. Bats in the Belfry. I was imagining all the wind chimes on my back patio while watching some bats feast on the moths drawn to the light of my windows at night. What would a bat sound like if caught in all those wind chimes? Well, this track sounds more like bells than wind chimes, so the bats were moved to the belfry. But then when hearing the rapid pealing of the bells in this track, maybe the bats are more of the baseball variety! Gentle Winds. In this track, I wasn't thinking of bells at all, just gentle wind. In fact, I was thinking more of a hammock swinging in the breeze, gently rocking me to sleep.